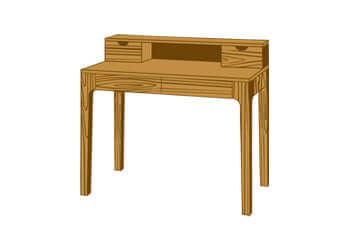 Solid wood desks
Showing items 1- 16 of 16.
Solid oak desk tables
When it comes to creating a workspace that is both functional and aesthetically pleasing, the solid wood tables are an option that should not be overlooked. In this article, we'll explore five solid reasons to consider these tables as an essential element in your workspace.
Why buy a wooden study table?
Outstanding Durability: Solid oak is renowned for its ability to withstand scratches, knocks and wear and tear, ensuring that your solid wood study table will remain pristine and sustainable over the years.
Natural Aesthetics: Solid oak adds a touch of natural, elegant beauty to your studio space, creating a welcoming and professional atmosphere.
Versatile Design: Solid oak study tables adapt to various styles and space sizes, allowing you to customize them to meet your needs and design preferences.
Workspace Inspiration: A solid wood desk enhances productivity and creativity by creating an environment conducive to focus and innovation in your study space.
Smart Investment: Opting for a solid oak desk is a long-term investment, as its durability and quality guarantee years of use. In addition, it retains its value over time, increasing its appeal both in your study space and in resale value.
Solid wood study desks, especially solid oak, offer outstanding durability, natural aesthetics, design versatility, an inspiring workspace and a smart investment. If you're looking to enhance your study space with a desk that is both functional and aesthetically appealing, you'll find the ideal options at Roble.Store to create an inspiring and highly productive place.