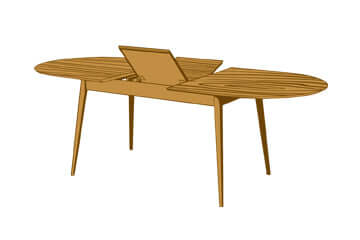 Extending tables in solid oak wood
Showing items 1- 23 of 23.

Extendable solid wood tables
Choosing an extendable table finished with sustainable solid oak oil finished in Europe under FSC standards can bring you numerous benefits and advantages. 
6 reasons to buy an extendable dining table:
- Versatility: An extendable table gives you the ability to adjust its size to suit your needs. You can adapt it to accommodate more guests during gatherings or fold it down to save space for more intimate moments. This flexibility allows you to make the most of your space and have a table that fits any occasion.
- Functionality: Extendable tables provide a practical solution for spaces that require flexibility. You can enjoy a larger table when you need it and keep it compact when not in use. This is especially useful in smaller spaces where space optimization is essential.
- Quality and durability: Sustainable solid oak extendable tables are constructed from high quality materials, ensuring long-term strength and durability. Oak is known for its hardness and ability to withstand daily wear and tear. With a solid oak table, you can be sure that you will have a sturdy and durable piece of furniture that will be with you for many years to come.
- Timeless aesthetics: The oil finish enhances the natural beauty of oak wood, bringing out its tones and grain. These tables add a touch of elegance and warmth to any environment, with a timeless style that adapts to different decorating styles. The natural beauty of solid oak wood gives the table a warm and inviting look, making it the focal point of your space.
- Ecological commitment: By choosing a sustainable solid oak extendable table made in Europe under FSC standards, you are contributing to the preservation of forests and the protection of the environment. The FSC certificate guarantees that the wood used comes from responsible sources, where sustainable forest management is promoted and deforestation is avoided.
- Long-term value: Investing in a solid oak extending table finished with oil rubbed oak is a long-term investment. These tables are durable and retain their beauty over time. In addition, their versatility and timeless aesthetics ensure that they will adapt to changes in your décor and remain functional for many years to come. Their durability and quality make them a cost-effective choice for the long term.
-Free gift: Each extendable table comes with a free care kit. This kit includes detailed instructions, protective gloves, abrasive sandpaper and oil to properly maintain and preserve the beauty of your table. We want to make sure that you enjoy your extendable table for a long time and that you can keep it in top condition.
If you need help finding the extendable table that fits your needs, don't hesitate to contact us. We invite you to explore our wide selection of solid wood tables in our dedicated section.