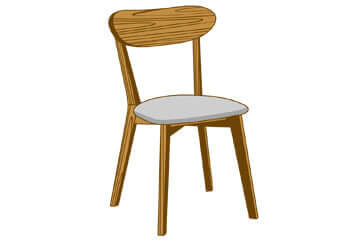 Wooden dining chairs
Showing items 1- 14 of 14.
Solid wood dining chairs

 
If you are looking for wooden dining chairs dining chairs, we have ideal options for you. Our chairs are made of high quality solid oak wood and are finished with ecological oil.
Solid wood dining chairs: 
Buying solid wood dining chairs is an exceptional choice that combines the natural beauty of wood with the sturdiness and durability that this material offers. Opting for solid wood dining chairs provides a number of advantages that make this choice a smart and timeless investment. Here are a few reasons why buying solid wood dining chairs may be the ideal choice:
Quality and strength: Solid wood is known for its durability and strength. These chairs are made from solid pieces of wood, which gives them greater strength and stability compared to other materials. Their solid construction makes them able to withstand daily use and the passage of time without losing their charm or deteriorating easily.
Aesthetics and natural beauty: The dining chairs solid wood dining chairs showcase the natural beauty of wood in all its splendor. Each piece of wood has a unique character, with distinctive grains and colors that bring a warm and welcoming aesthetic to the dining room. Solid wood blends perfectly with different decor styles, from rustic to contemporary, adding a touch of elegance and sophistication to the space.
Long-term durability: Solid wood chairs are designed to last over time. Given proper care, they can maintain their beauty and functionality for decades, making them a long-term investment for your home.
Customization: Solid wood can be worked and customized to your preferences. You can choose from different finishes and stains to adapt the chairs to the style of your dining room and create a unique and personalized decoration.
A feeling of warmth and comfort: Solid wood chairs bring a sense of warmth and comfort to the dining room. Their contact with nature and the warmth of the wood contribute to create a cozy and pleasant atmosphere to enjoy family meals.
Sustainability and respect for the environment: If you select solid wood chairs from sustainable sources or with responsible forest management certification, you will be contributing to the care of the environment. Solid wood is a renewable and environmentally friendly material that is responsibly sourced.
Blog Articles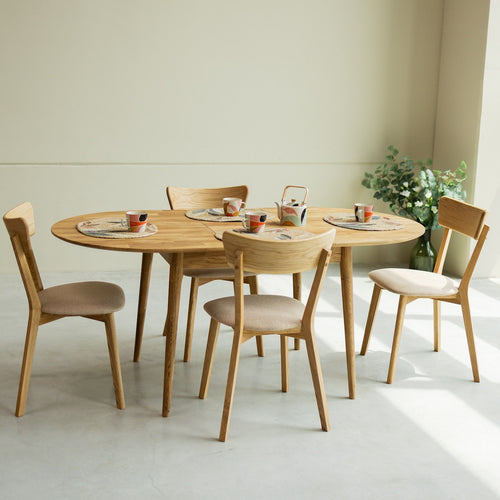 A good home environment always goes hand in hand with the decoration and this is often difficult to achieve in the living room because in this space we perform many activities and we can find a lot of furniture. In this room you can easily watch TV, study, eat and even receive visits from family and friends, so it is necessary to have everything well equipped and one of the furniture that collaborates with that organization and equipment is the dining chair. Here are some packs of wooden dining chairs that you can buy for your living room or kitchen.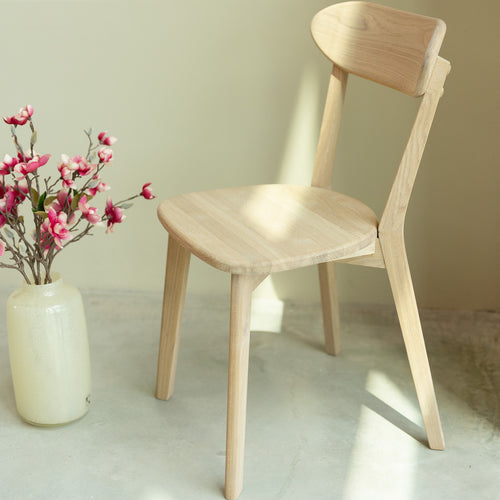 Wooden furniture looks great and the best thing is that there is a great variety of them, from tables, to stairs, beds, chairs and more. But, being a material of daily use, it gets dirty and needs certain care to keep it in good condition. In the case of wooden chairs, they are widely used in our house, whether they are wooden chairs for the dining room, or for the living room, or for any other purpose. For this reason it is essential to know how to take care of wooden chairs so that they last longer and look as good as new. Have you ever wondered how to paint a wooden chair and give a new life to your old furniture? In this article, we will provide you with a complete guide so you can perform this task easily and get professional results. Renovating your wooden chairs is an excellent way to give a fresh and personalized touch to your home, without having to spend large sums of money on new furniture. Join us and discover all the steps to achieve it!