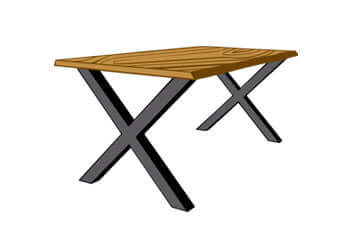 Solid wood dining tables
Showing items 1- 30 of 32.
1
2
Oak dining tables
Buying solid oak dining tables is an exceptional choice that combines beauty, strength and versatility. Oak is a durable hardwood that has been prized for centuries for its quality and aesthetic appeal. Opting for oak dining tables offers a number of advantages that make this choice a valuable and timeless investment. Here are a few reasons why buying oak dining tables can be an excellent decision:
Natural beauty and aesthetics: Oak is known for its aesthetic appeal and rich texture. Oak dining tables exhibit beautiful grain and warm tones that add a touch of elegance and sophistication to the space. Its natural beauty blends perfectly with a variety of decor styles, from traditional to modern, providing a cozy and inviting atmosphere in the dining room.
2. Durability and strength: Oak is a sturdy and durable wood that will hold up well for many years. Oak dining tables are designed to withstand daily use and the passage of time without deteriorating easily. Their solid construction and resistance to bumps and scratches make them a durable and reliable choice.
Versatility in design: Oak dining tables are available in a wide variety of designs and styles. You can choose from tables with rustic and aged finishes, or more modern and minimalist tables. This versatility allows you to find the table that best suits your dining room aesthetic and personal preferences.
4. Customization and adaptation: Oak is a wood that can be worked and customized to your preferences. You can select from different finishes, stains and shapes to create a unique and personalized table that reflects your style and taste.
5. Added value to your home: Oak dining tables are considered a quality investment in your home furnishings. Their beauty and durability add value and appeal to your home, which can be beneficial if you ever wish to sell or rent your property.
6. Sustainability and respect for the environment: If you choose oak dining tables from sustainable sources and with responsible forest management certification, you will be contributing to the care of the environment. Oak is a responsibly sourced and renewable wood.
Why buy oak dining tables?
Buying oak dining tables is a choice that combines beauty, durability and sustainability. These tables offer natural aesthetic appeal, exceptional strength and design versatility that adapts to different decorative styles. Plus, as a sustainable option, by choosing responsibly sourced oak, you'll be helping to care for the planet.
If you're looking for a dining table that will be a lasting investment and add a touch of elegance to your home, oak tables are the perfect choice. Enjoy special family moments around an oak dining table, and take advantage of the beauty and quality that this hardwood can bring to your space.
Types of dining tables:
Fixed wooden tables

-

Extendable wooden tables

-

Large wooden tables

-

Medium wooden tables

-

Small wooden tables

-

Wooden design tables

-

Rustic style wooden tables

-

Provencal style wooden tables

-

Wooden tables modern style

-

Nordic style wooden tables

-

Wooden tables Scandinavian style - Wooden tables Scandinavian style

-

Round wooden tables

-

Square wooden tables

-

Rectangular wooden tables

-

Oval wooden tables

-

Tables for 2 people

-

Tables for 4 people

-

Tables for 6 guests

-

Tables for 8 guests

-

Tables for 10 guests

-

Tables for 12 people
Blog Articles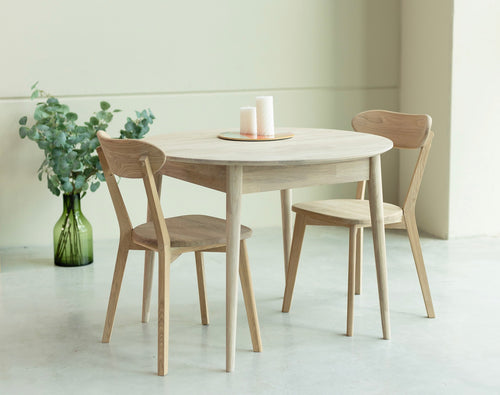 If you're looking for clever ways to incorporate solid wood tables into small spaces, you've come to the right place! At Roble.Store, we understand the importance of optimizing every corner of your home for functional and stylish décor. Whether you have a cozy downtown apartment or a charming cottage in the suburbs, we'll provide you with creative ideas to make the most of your spaces with wood tables. Ready to discover innovative solutions, read on!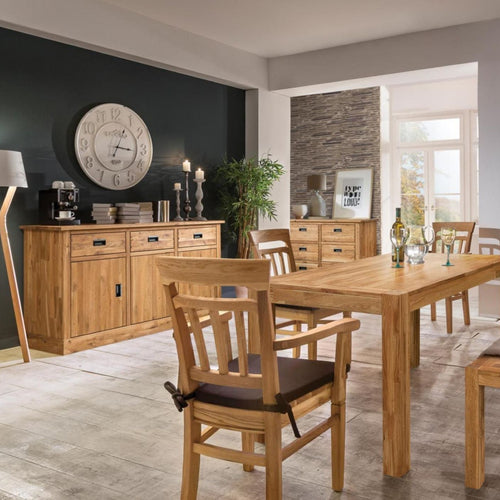 If you've ever wondered how to add a touch of elegance and warmth to your home, the answer could be found in one simple piece of furniture: a wooden table. Whether it's in the kitchen, dining room or even the living room, a wooden table has the power to transform a space into something cozy and inviting. In this article, we'll explore the many advantages of having a wood table in your home, especially if you're considering Oak.Store to purchase one of exceptional quality.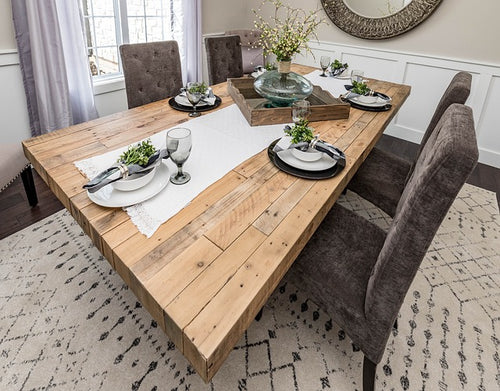 Decorating solid wood dining tables may seem like a simple task, but the reality is that it requires a certain level of detail and creativity to create harmonious and cozy environments. Here is a step-by-step guide to help you decorate your dining table in an elegant and, above all, functional way.